Synthetic sponges and scouring pads, abrasive fibers
Item no : 0151-26

Designation :
4 scouring pads 10 x 15 cm
Size :
2
Packing : 26 units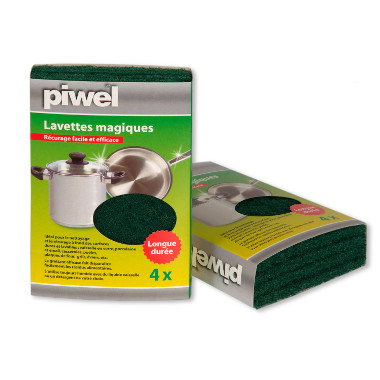 USAGE
4 scouring pads made of green abrasive fibres (10 x 15 cm) - long-lasting
---
Easy and effective cleaning of strong, rigid surfaces:
porcelain, enamel
cookware
ovens and baking sheets, barbecues, sinks, etc.
The abrasive fibres quickly remove burnt on food.
Advice for use:
Use well moistened, in combination with dishwasing detergent.
Important:
Do not use on anti-stick coatings or any delicate surface (such as coated or varnished surfaces, silver plates). Always test product first on an inconspicious area or spare surface.